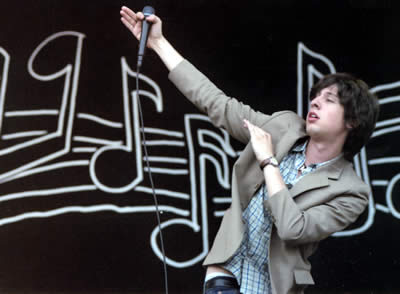 I try not to be a snobby music person who hates it when their artists blow up but i am still a bit shocked by the Kimya Dawson/Adam Green/Juno madness that has been happening as of late. I have been a
Moldy Peaches
fan for years. Loved the days of Adam dressing up in his weird costumes and colorful Kimya singing their special blend of cute little melodic songs with lyrics sprinkled with vulgarity and obscenity. They were like
NOFX
for the indie crowd. Maybe that is a bit of a stretch, but they were fantastic. I was estatic when i read that Kimya was going to be such a huge prescence on the soundtrack and knew that audiences would fall in love with her and Adam just as i have. Hopefully fans of the movie will do some homework and check out all that
Kimya
and
Adam
as solo artists have to offer. In addition hopefully record stores will now re-stock and sell Moldy Peaches albums! Now that would make me really happy! It has been highly enjoyable watching Adam grow as a singer-songwriter. With each album his voice becomes even stronger with a classical edge and fludity that not only showcases his maturity and ability but leaves his New York audience wishing he would play here more and stop going to Germany!
(or maybe that is just me!)
So today is not only new album release day, it is also "Morning After Midnight" day- Adam's latest single which you can now find on
iTunes
and his
myspace page
. Very exciting. Hopefully we will have some new dates for him soon, it has been way too long since his performance at
Southpaw
opening for
Ben Kweller
. We
love
you ADAM!!! Adam's latest and FIFTH solo record,
Sixes and Sevens
will be released via
Rough Trade Records
in Europe on March 7th and March 10th state side. March is looking pretty sweet...
Adam Green Tags
Kimya Dawson Tags
Juno Tags