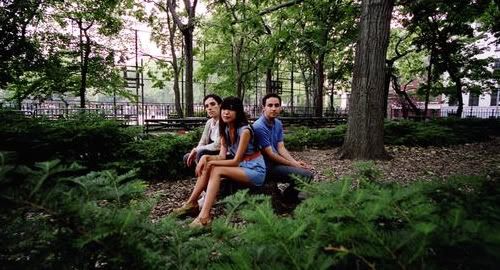 The Pains of Being Pure of Heart scoping out NYC heartbreak near Tompkins Square Park
The Pains of Being Pure of Heart
are the newest New York city based band to attract my attention as of late. I must say i went with them straight away based on their drawn out heartfelt selection for a band name. Works every time! Lucky for them they have the talent and lyrics to back it up.
The Pains of Being Pure of Heart
consists of Peggy Wang-East on keys, Alex Naidus on bass and Kip Berman on vocals and guitar. The threesome have only a five song EP to share with you released on
Cloudberry Records
.
Track List:
1.
This Love is Fucking Right!
2.
Orchard of My Eye
3.
Doing All the Things That Wouldn't Make Your Parents Proud
4.
Hey Paul
5.
The Pains of Being Pure at Heart
Help shoulder their burden at their live dates
Nov 10 POPFEST! NEW ENGLAND! @ The Elevens-Northhampton, Massachusetts
Dec 14 Union Pool: w/ The Secret History, My Teenage Stride-Brooklyn, New York
Dec 28 Tritone: w/ A Sunny Day in Glasgow-Philadelphia, Pennsylvania
Feb 23 Spiral Scratch Presents: TBD-UK, London
Feb 24 TBD - ATOMIC BEAT PRESENTS-Sheffield
Feb 25 TBD - Nottingham, Nottingham
Feb 26 The Globe: w/ The Manhattan Love Suicides, Horowitz Stoke
Feb 27 The Royal Park: w/ The Manhattan Love Suicides-Leeds
Feb 28 TBD
Feb 29 BUFFALO BAR: Lost Music Presents LONDON, London and South East
March 1-Organ Reykavik, ICELAND
The Pains of Being Pure At Heart-This Love is Fucking Right!.mp3
The Pains of Being Pure At Heart-Orchard of My Eye.mp3
The Pains of Being Pure At Heart-The Pains of Being Pure at Heart.mp3