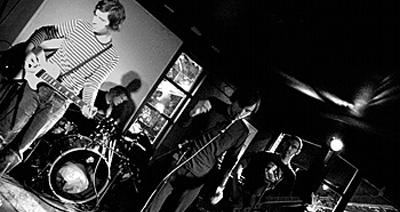 The Twilight Sad
*
cred
*
I was incredibly satisfied with having to wake up 'early' on a Saturday morning to trek out to see
The Twilight Sad
five seconds into their performance. Yep-five seconds. Their enchanting songs were just as vivid and bold live. They had a bit of difficulty with their sound check which i worried would cause them to be tense and rushed on stage, but they were neither. Brazenly claiming their presence on stage they marked themselves as a band i think it definitely one to watch. I am hoping that some important music people checked them out for their sake. They deserve to be opening for bands such as
The National
,
The Magic Numbers
or
The Editors
with similar moody sounds and mysterious melodies. Granted, not really the type of music to turn out for on a bright, sunny July day, but overwhelmingly worth it.
The Twilight Sad-And She Would Darken The Memory Of Youth.mp3
The Twilight Sad Tags
Elvis Perkins
After
The Twilight Sad
set wrapped up i happily left Jaime to go watch one of my favorite acts,
Elvis Perkins
. The last time i saw Elvis he was opening for
Cold War Kids
at Bowery Ballroom where i completely fell in love. He clearly plans every second of his stagetime which shows in both his music and style. At first Elvis approaches the audience and commences with 'While You Were Sleeping' while the other members of his band gracefully join him one by one. Silently slipping into their places, putting down their beers and reuniting with their instruments. Elvis is a gift among the music scene these days. Like
Andrew Birds
and
Antony
music is more than just a format of expression for him but a true obstacle to tackle and meld into his own unique creation.
Elvis Perkins- It's Only Me.mp3
Elvis Perkins Tags
The Black Lips
*
cred
*
I was sad to have skipped the
Dr. Dog
set as i have yet to see him perform. Jaime absolutely loves him and throughly enjoyed the performance. We took a bit of a break before heading over to check out the tail end of
The Black Lips
. This was the first band to make a convert out of me on Saturday. I enjoyed their fiesty energy as much as their sound. They were a perfect summer festival band and it was clear the audience was enjoying them.
My Lavendar Diamond
*
cred
*
After leaving
The Black Lips
we wandered over to
My Lavendar Diamond
. She sounded lovely, but sadly, i felt she was a bit out of place with the whole beach, Siren Festival Vibe.
Matt and Kim
*
cred
*
My favorite awakening of the day was during
Matt and Kim
. I had never really understood the buzz surrounding them and their live shows. Now i completely get it. Matt, with his exuberant voice comes across as the most jovial male performer i have ever seen. Whereas most male singers put energy into being either funny or mysterious, Matt with his youthful presence draws you in and fills you with happiness throughout their set. Their songs are lighthearted and the audience reponds with happy dancing, clapping and cheers. They were incredibly pleased to be performing to an audience at their favorite place on earth, Brooklyn and it showed. Tearing through each song i was very impressed overall. Definitely made me want to run home and put them on my ipod immediately.
Matt and Kim-Yea Yeah.mp3
Matt and Kim Tags
I reallllllyyyy wanted to see M.I.A.
but it was SO crowded by this time. It was very apparent that most of the crowd came out for the bands scheduled to close out the day. We couldn't hear her at all from where we were and all i could see was that she was wearing something sparkely. I really was curious to see how she translated live, hopefully i will have another chance soon-and hopefully i won't have to go to Studio B for it.
According to
BrooklynVegan
she was lovely. As lovely as
Di Fara
pizza? Tough competition since that is where i ended up due to getting pushed back from M.I.A. and i can officially say it is the best pizza i have ever tasted. The whole experience is something you must do while you are visiting or living in nYc. You will not be disappointed. Family run the owner gently makes the pizza right in front of you while you wait at the counter...salivating over every move. It is well worth the wait just to watch him create his magic. My favorite bit was how slowly and deliberately he moved and how respectful everyone was who were waiting for their slice or pies. A truly magical place. I highly recommend the red peppers that live in a white container on the counter and melt into the pizza as soon as you place them on top of the cheese. I must thank my friend Rebecca since she shared this grand bit of New York with me.